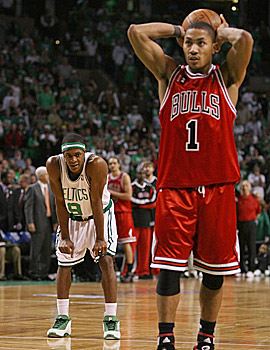 The '90s were the best time to be a young Bulls fan in Chicagoland. Michael Jordan was the king of the city, and we loved and respected our great king. He inspired us. He put a happy spell on Chicago for a solid decade. And when the party ended at the end of the 90s', it really ended. You could hear a thud.
It's been bad for a long time. We've had to endure an entire decade of subpar basketball in Chicago, but dear readers, it's finally the dawn of a new era.
Derrick Rose
has singlehandedly given us hope for the future of the Bulls. After todays opening playoff
win
against the defending champion Celtics, excitement has returned to Chicago's basketball fans. Our hometown boy is the rookie of the year, and will probably end up an MVP before his career is over. And hopefully, Rose will bring in a few more Bulls championships.
I almost didn't make a post today. I thought that I'd take the weekend off. Then I realized that I don't have a job, and that I really have no excuse to not post. But today was a great day for Chicago, and the Bulls made me proud. And in making this post, I suppose I am obliged to write something here every single day of the week. No breaks. (at least until I get a job...)
This may not be the year that Rose takes us all the way. We may not even get past the first round still. But he has proven himself today. He has assured us that he is indeed something to be
excited
about.